Protein-DNA Interactions
Interactions between transcription factors (TFs) and their DNA binding sites are an integral part of regulatory networks within cells. These interactions control critical steps in progression through normal cellular processes and in responses to various environmental stresses. However, the DNA binding site specificities and regulatory functions of many known and most predicted DNA binding proteins are unknown. The Bulyk Lab has developed an improved in vitro protein binding microarray (PBM) technology to characterize TFs' sequence specificities in a high-throughput manner. The PBM technology allows us to determine the DNA binding site specificity of proteins in a single day. Comparison of binding site specificities determined from the PBM approach versus by in vivo genome-wide location analysis (ChIP-chip) indicates that the binding specificities can correspond well with each other.
Universal Protein Binding Microarrays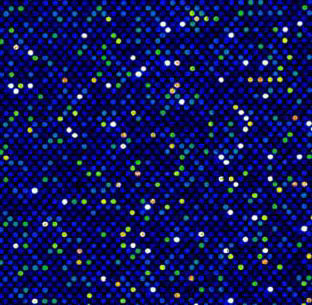 In order to analyze transcription factors from other species, we created a compact, universal PBM that contains all possible sequence variants of a given length k (i.e., all k-mers). Our design is based on de Bruijn sequences, in which all k-mers can be represented in an overlapping manner in an unbiased fashion. To date we have constructed such 'all k-mer' PBMs covering all 10 bp binding sites using high-density Agilent microarrays, enabling us to fit all 1,048,576 10-mers in approximately 44,000 spots. Using these microarrays, we comprehensively determined the binding specificities over a full range of affinities of >500 TFs from a wide range of structural classes and organisms. Our universal PBMs permit the discovery of subtle preferences in transcription factor binding sites (including interdependencies among different positions) and can be used with transcription factors from any species regardless of the level to which its genome has been characterized.